1996
Olimpic, European and World champion rhythmic gymnastic. This ucrainian is the rhythmic gymnastic queen. She doesn´t know rivals who are able to finish her widespread reign (...)


Reporter:What´s valuation that you do of you former participation at the Olimpic Championship?
Ekaterina: It was a competition very hard but finally I got all what I found.

Reporter: Who is the main difference between Olimpic and World championahip?
Ekaterina:At the Olimpic Championship was very hard because there a lot of poeple observe it and, besides, in my country its only satisfied if their perfomance get the gold medal.I had the obligation to be the first.

Reporter: How have Rhythmic Gymnastic changed since the Sovietic
Union desintegration?
Ekaterina: Now It´s better for the sport because before there were only three sovietic gymnast. Nowadays we see nine gymnast from Belarus,Russia and Ukriane at the championship.

Reporter: What do you think about Spanish Rhythmic?
Ekaterina: The gold Olimpic was a good new for Spain and spanish gymnast. Personally, I´m glad about their.

Reporter: Which is the next great competion?
Ekaterina: In May,1997, I have the Europeans Championship in Greek.

Reporter: At present you have got 19 years old, have you thought until what age you think to take part in the elite competition?
Ekaterina: In my opinion I think I will be able to devote Rhithmic Gymnastic until 24/25 years. Finishing that age it would be well.

Reporter: How do you see rhithmic promise young in Uckraine?
Ekaterina: We have some young girl very good. The only problem is that we have few gymansts that they have 16 yars old

Reporter: Why?
Ekaterina:Because we have some problems which have povocaded this situation in Ukraine.

Reporter:What kind of problem?
Ekaterina: I cannot speak about them.

Reporter:Politics problems?
Ekaterina: Yes,exactlly.

Reporter:The last "Blume Memorial " had a great approval, thanks it was a exhibition,is it the future gymnastic in part?
Ekaterina: The gymnast, the fact it was a exhibition its better because, so, we don´t typicol competition pression. We work for the public in the exhibition and order not the judges. It´s always good.

Reporter: What kind of relationship do you have with the other gymnast?
Ekaterina: I don´t only have friends the former Soviet Union. I have friends in countries as Germany as Spain.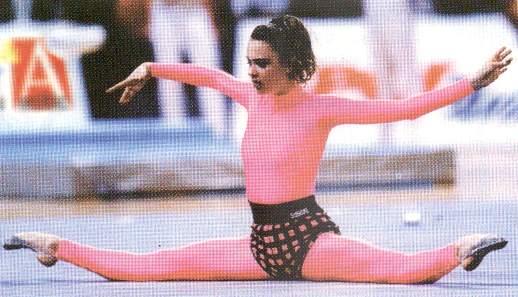 ---
Note: This interview is translated for me so it have a lot of error.I have to excuse for that
SORRY!!!!!!!