1994
This tall, elegant and easy-going 17 years-old has been prominent in rhythmic gymnastic since 1992, but her victory in Telford at European cup was her first major overall title.Now, she talks about her life.


"I started rhythmic gymnastics when I was 4 and i have never don´t any other sport" Says Ekaterina.Now she is coached by her mother, a former artistic gymnast who use to train with Ludmilla Tourisheva."It can be dificult when your mum is your coach" She says "Because i need to be more self-diciplined.But in some ways it´s easier,too.I can share my problems with her and we have a strong relatinship"
Like all top rhythmic gymnast , Ekaterina is very slimm and extremely flexible. But she claims it comes naturally to her."I never work on my flexibility" She says with a smile."Its a God´s gift ! " So is her slimness.She is sensibly to keept her weight contast, but doesn´t have any problems and finds starnge that some people starve themselves to lose weight. "Because I´m naturally thin, I dont know any other way and don´t know some people do this. We eat carefully because it´s the profesional life we must follow".Ekaterina has to train hard though, and like most gymnasts there are times when she wants to give up."Yes, very often!! ".She says wiht a laught."But at the same time I realize that I can´t live without rhithmic gymnastic.Its the most important thing in my life"she says.
"Quite simple thinks:To have husband, and nice house to live in and to earn money honestly ". She does have one dreams, thoughts."I wanna built a sanctuary for animals in Crimea " she reveals. "It would be for abandoned pets, which its a big problem in the Ucraine.I ´m always trying to whith too many cats in the house !! "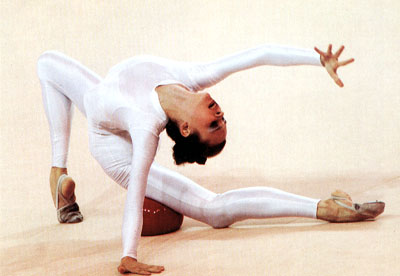 Back